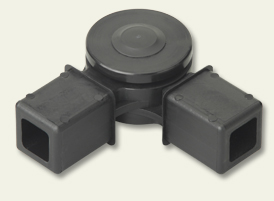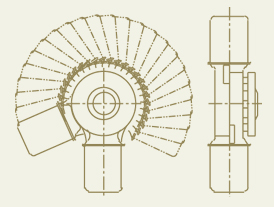 Economical-yet-rugged locking hinge made of tough black thermoplastic. Adjustable Locking Hinge Models provide positive locking at any 10° or 45° increment. Once locked, the hinge becomes an absolutely rigid joint, able to withstand 450 inch-lbs of torque (5:1 safety factor). Applications include adjustable fixtures, rotating fixtures, trunnion mounting, adjustable handles, foldable handles, adjustable part trays, adjustable shelves, adjustable racks, adjustable and/or fold-away work surfaces, positive positioning of lighting or nozzles, and collapsible structures. Patent numbers 5,586,363 and 5,689,999. Other patents pending. Made in USA.
MODELS AVAILABLE:
Available only as an inline model with either 10° or 45° increments. Hinge extensions line up in the same plane. Total range of movement is 220°. See Dimensions page for part numbers.
MOUNTING:
The version shown here has square hinge extensions to fit 1-1/2" OD square tubing externally, or 3/4" square tubing or bar stock internally.
SAFETY PRECAUTIONS:
Avoid any possible pinch points, especially with heavy loads. Do not release the hinge unless adequate support for the load is in place. Do not let loads swing freely.
MATERIAL & WEIGHT:
Body - Black thermoplastic
Pins - Dupont Zytel
Release Button - Black thermoplastic
Weight - 5.8 oz.