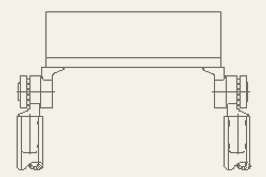 Adjustable Locking Hinges are often used in pairs, with both push buttons facing outward for easy access.
Connect two Adjustable Locking Hinges at 90° (with pipe or tubing) for full 2-axis positioning.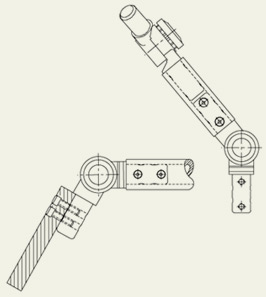 Hinge extensions allow convenient mounting to flat plates and angles, as well as to pipe and tubing.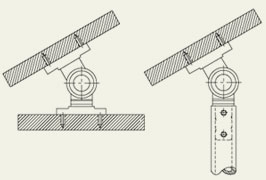 Mounting flanges are ideal for attaching Adjustable Locking Hinges to flat surfaces. Medium duty hinges are available with either two mounting flanges, or one mounting flange and one round end.
Variloc® Incremental Locking Hinges are easily activated using a variety of methods, depending on what is best suited to your application.
PUSH BUTTON (PB) MODELS:
Variloc® Push Button Models use the most common activation method. Simply depress the plastic push button, rotate the hinge to the desired setting, release the button and lock the hinge securely in place.

Learn more about Push Button Activation
CABLE RELEASE (CR) MODELS:
Variloc® Cable Release Models can be remotely activated. Simply remove the center push cap, run a cable from the bottom of the hinge up through the hole in the center of the bolt, add a washer on top of the plastic push plate and insert a cable stay. CR hinges can be activated alone or in a series. They can also be activated by manual push button, in a series with a rod and snap lock, or with a pneumatic activation attachment.

Learn more about Cable Release Activation

Learn more about Pneumatic Release Activation

Learn more about Series Release Activation